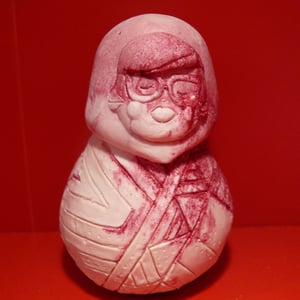 $

30.00
introducing mars' zombie matryoshkas! these are not your mom's nesting dolls.
this is the sixth gore colorway cast (of 7), 1 of the total 18 dolls. please note that every toy is handmade and does have some imperfections. each matryoshka is different, and has its number stamped into the bottom. these just-under-4" dolls come in a burlap bag along with a numbered card.
all 7 come with a different amount of glittery carnage, just hinted at with the last release. take one of these bad boys home with you before they're gone; gore has never been this sweet!